In keeping with our Nick's birthday themed posts, tonight's entry is about the movie we rented that night.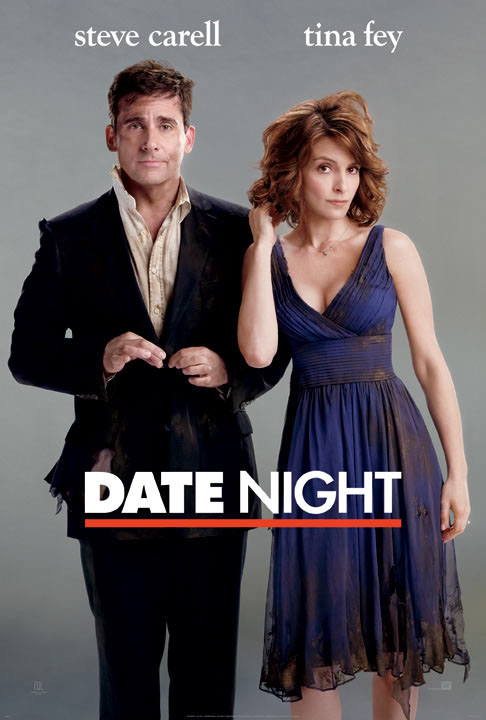 I am a planner, everyone in the whole who has ever met me knows this. So for Nick's birthday, since it was just the two of us, I wanted to make sure everything was really perfect. It's hard to have your birthday be at a time when you don't know too many people and you're away from your family and friends, so I didn't want him to be thinking about that at all. A couple weeks ahead of time I skimmed through our Netflix cue to see what we had on there. Should I pick something action packed that any guy would be into? Should I pick something schmaltzy and romantic because Nick is a softie at heart, and the whole night was kinda like a big romantic evening? I eventually decided that something lighthearted would be good and opted for a romantic comedy with emphasis on the comedy.
Date Night
starring Tina Fey and Steve Carell seemed like the obvious choice, especially because with two comedians at the top of their game, I was expecting it to be intelligent and not just stupid.
Well I'm not going to lie, I was not disappointed. Fey and Carell star as The Fosters, a couple who is a little burnt out from raising the kids and working. They have weekly date nights, but there's little spice to their marriage. Prompted by a close couple's divorce, Carell's character decides they need to do something different to "save" their marriage when in reality it was never that broken to begin with. They head to NYC to try to get into a restaurant that's impossible to get a reservation at, and when they steal another couple's reservation they are struck with a case of mistaken identity and hilarity ensues as they try to survive the night.
Fey and Carell play their characters perfectly with the flair that you might expect from the two of them. Perfect comedic timing, great chemistry, with a bit of honesty thrown in. When you watch them fight, or goof around, you walk away feeling like "wow, that could be me and my significant other." (We laughed hysterically and both said this as they did a "stripper robot dance.")
That being said, this movie is not without it's star supporting characters either. Mark Wahlberg plays a shirtless security expert, Will.I.Am makes a cameo as himself which leads to a hilarious scene, and Mila Kunis and James Franco star in a scene as the couple The Fosters stole the identity of for a night.
Overall, I'd give the movie 5 stars because it has everything you'd want in a date night movie. You laugh, you love your partner a little bit more after it, and you have a good time watching it. I think this is one DVD we may end up adding to our collection.