I like to do a lot of things alone. Go to the movies, go to museums, walk around cities, and work out just to name a few. There's something about having some quiet alone time around a ton of other people that I find to be really relaxing and rejuvinating. One thing I learned recently, though, is that I really hate to eat out alone.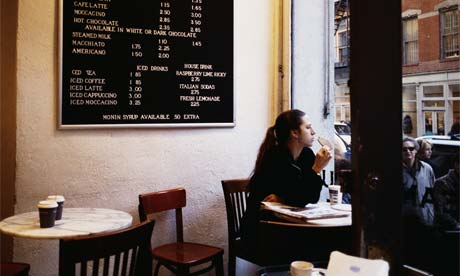 In an episode of Sex and the City, Samantha is stood up for a date, without any of her dining-alone armor (books, etc.). At the end of the episode Carrie takes herself out to lunch without any of this armor in an attempt to get over the fear of being single and alone. I think my recent lunch experiment was similar to this. Or maybe I just thought I'd be able to handle it considering I like to do other things alone so much. And then I failed miserably.
The restaurant was packed, I sat in a dark corner where I could see the whole restaurant, and just felt like everyone must be wondering where my lunch date was. At one point another middle aged woman walked in and was seated at a table 2 over from me by herself and for a moment I found some inspiration from her as she ordered a drink on her own. I thought to myself, "this is a woman I need to be more like." Then a friend joined her and our sister-hood of solitary diners ended. My solution? To get a really good imported beer and get drunk. So the dining experiment failed, and I have a pretty strong desire to never eat out on my own again (not sure if I'll follow this because I think this is something I should get over). But at least the food was good.
Speaking of food, the restaurant I went to was The Gage in Chicago. After walking around downtown for a couple of hours I was starving and the restaurant was perfectly placed on Michigan Avenue on the way to the Chicago Institute of Art. I arrived right at the start of the lunch rush so I was able to get a table no problem (although I still was told to wait for a different hostess to seat me). The menu itself has a lot of standard fare on it, burgers, salads, roasted chicken, etc. but with seasonings and sides that reflect the more sophisticated diner. One such example was what I ordered, the Gage Burger which was topped with Camembert cheese and onion marmalade. I'm a sucker for a burger with fancy cheese and any type of sweet onions. It was delicious and I think the waiter was surprised that little me could finish the whole thing plus all of my fries...did I say I was starving when I went in? And as I said earlier, I had one of the seasonal beers on tap, which was recommended to me by my waiter. I'm not a huge beer drinker, but I was in the mood for something to match my burger and it was great. I wish I had remembered to write it down for future reference as it's really rare that I find a beer that I don't get sick of half way through the pint. All in all it was a little pricy for lunch, but I figured 1. I'm on vacation! and 2. if I'm going to suffer through a meal by myself I should really like that meal. So I guess the discomfort was worth it then...although maybe next time I'll get dessert too.