Bedding is probably one of the most expensive accessories you buy for your home (besides furniture). When you shop around enough for it, you start to realize what a rip-off it is. On one hand, if you buy pieces separately you can get just the right pillow case to match your duvet cover and your bedding is more personalized and you can show off your ablity to play with color and texture, but you spend a fortune. And if you buy bedding in a bag, you're stuck with whatever pieces they gave you (and you don't always save as much as you think).
I am really picky about sheets, so I shop around A LOT. I've come to the conclusion that in this case it's good to be picky (you find the best deals). Too often a couple goes to a department store and buys the first thing they can both agree on. You're so frustrated with each other that you just want to get out of the store as soon as possible and you forget that you don't want to spend more than $150 on everything for the sake of preventing WWIII. Then when you get home, it's not exactly perfect. Repeat.
Seriously ladies, my father has not picked out a single thing in my parent's home ever and he's perfectly fine with it. Nick recognizes that I am the style maven of the house, so he generally trusts my decisions. Your husband does not need to be there, bring a friend or your mom instead. Or if you really must include him, browse online, find a few things you like and be targeted in your search when you get to the mall so that you don't drive him completely nuts and frustrate yourself over something that really should be more fun (ie. teasing each other about all the things you can do with those sheets, wink wink, nudge nudge).
Anyways, getting back to the real point of this entry. Pottery Barn is having a sale! I quickly browsed quite a few other websites and Pottery Barn's sale is really good as far as prices go. Most of their styles are along the Country Farmhouse/1950s style. I have mixed feelings about this style. Chabby Chic has been in for the last what...10 years? But I think that overdoing your whole bedroom in this style is a little much. You end up either feeling like you are in a time warp or find your sense of style turning into the dreaded "mom who wears mom jeans" point of view. What's better is to mix and match to give your bedroom a modern yet classic feel. We'll get to that entry eventually, but for now this is just about the sale.
I really like this set because it has a mix of textures (which I absolutely love in all forms, clothes, paintings, bedding, etc.) and is perfect for mixing styles as I said earlier: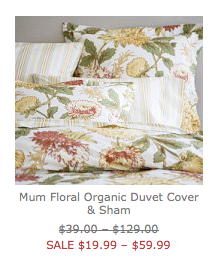 I also like this set because while it is a floral pattern (that has been overdone to death), it has a little bit more of an oriental flair to it. It's an update on two old classics. With some solid sheets, dark wood, and bright yellow and pink accessories (like a vase or lampshade) it could really liven up a dark room.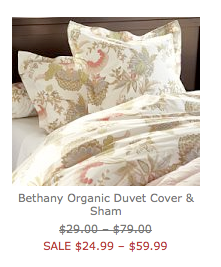 Click me
for the rest!