When the time came to pick out invitations for my wedding I had so many ideas of how I wanted them to look. I really wanted something with color, something a little edgy and modern, yet with an earthy bohemian twist. While I loved my invitations, I got vetoed on many of those ideas because, as Nick bluntly put it, "I'm not a woman, and those are lame." I came to realize that picking out invitations is hard because you are generally stuck with the options they give you, and trying to fit the whole vision of you as a couple and the style of your wedding is almost impossible unless you have them custom made, which runs big big bucks.
Shortly after we were married I read an
article in the NYTimes
about
Paperless Post
, a business started out by a pair of young professional siblings who wanted to find a more stylish alternative to websites like Evite or Facebook when inviting people to an event. Yet, it would also be so stylish that you can save money on invitations for more formal affairs like Engagement Parties or Corporate events. Should all of your guests own or work with a computer (which most people under the age of 60 do), you can invite them to your event online.
While the invitations are not free, they are very low cost in comparison to real ones. For 100 invites to our wedding we paid about $600 (which was cheap). On Paperless post everything is paid with "stamps." For a basic invitation, if you buy 300 stamps, they will run you .05 a piece. That ends up being $5 for 100 invites. If you want to add photos, or envelope linings, and other things the cost will go up, but it's still pennies on the dollar.
Creating the invitation is easy. If you are not creatively inclined they will give you tons of design options with examples, a word template to work off of, and suggestions for font, color, size, and layout. If you are computer savy and you want to customize every detail of the invite you can do that as well. Managing the invites is just as easy. They will tell you if someone has opened the invite, what they have RSVP'd (with their optional message), and keep a running tally of "yes's" and "no's." In addition, if an email does not work or if someone is taking a long time to respond, they'll let you know that too.
You can have something more formal: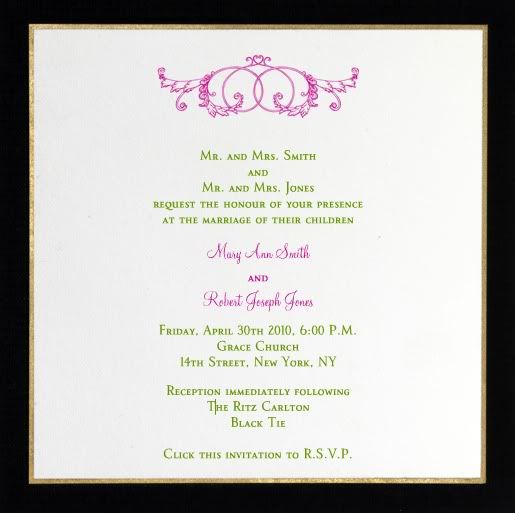 Or something more casual:
There are images and templates for every occasion you can think of, and there also options for Save the Dates and Thank You cards.
I've used Paperless Post only once (most of my parties are last minute, and really aren't parties as much as they are get togethers), but I loved the system. If I had more people to invite over and more time to entertain, I would use it for every event I host. I like the idea of having something pretty to send out and the ability to be more formal. It keeps certain traditions alive from older and long gone generations without breaking the bank or wasting paper. Now if only you could do this with personal calling cards!
Maybe I'll have to have another one of these, just so I have an excuse to make up another invite.
Interested in signing up?
Click here.