Just sitting here and thinking about
Celadon
is making me hungry. We went to Celadon in Napa on our first night in town and considered it our official anniversary dinner so we splurged a little bit. I was kind of nervous at first, but honestly, the food was so amazing it was well worth it.
We started off with an appetizer of calamari which had a sweet chipotle glaze drizzled on top. I've eaten calamari so many times I usually hate to order it, but we were told it was their signature dish (and Nick was frothing at the mouth just thinking about it) so we got it. And holy moly, it might have been the best calamari ever. Only rivaled by the one we ate at
Cook
(another wine country restaurant).
Because the restaurant uses "happy meat" we got to order whatever we wanted off the menu. Needless to say we both got meat (and kinds that we would normally not eat at home). For dinner I ordered duck breast with sweet potato gnocchi. It was amazing; a perfect mix of Sweet and Savory flavors. After just about every bite I said "oh my god this is so good." And I ate the ENTIRE thing.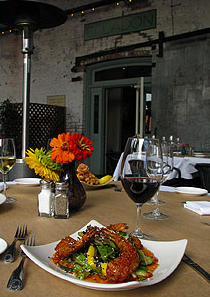 Nick ordered roasted leg of lamb with couscous. A dear family member of mine used to make Mediterranean food and I've never had food as good as hers, but Nick's dish was amazing. Right up there with hers. The meat was so tender, at first Nick didn't understand why he didn't get a heavy duty steak knife like I did, but when he put his pork in it and it completely fell apart he just smiled and gobbled it up.
For dessert Nick ordered tiramasu and I got macadamia crusted goat cheese with port poached figs on crostini. We ate every last bite, regardless of how much we both wanted to explode. Obviously we hated everything.
I think I've found my favorite California restaurant.