Funny how after I finally get back to California all I can think about is going to Harmony Tea Room (or the tea place as we call it). I even had a dream about it last night! What would I do if I could have my own tea party at the apartment?
Invitation:
I like to use
Paperless Post
when sending out invites to parties. It's much fancier than using Facebook or Evite as you get to put together your own invitation similar to a paper stationary one. In the past I've followed invites up with girls who have said they're coming, but only when I've had extra invites and the time to make the look all pretty.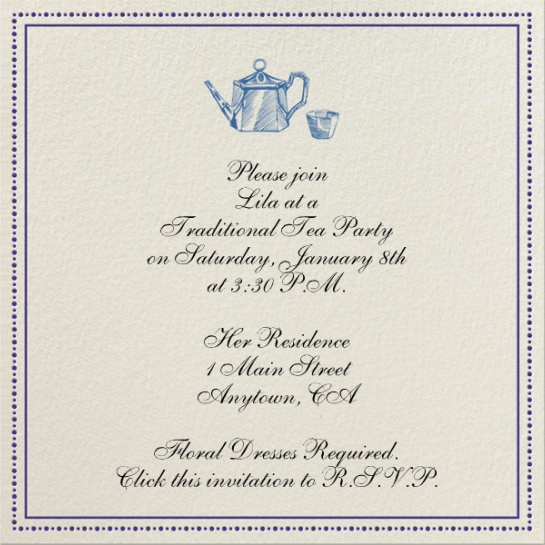 Dress:
My Aunt Susie says that everything in life should be an experience. No matter how small or how big you need to be in the right frame of mind and appreciate everything you do. How can you get in the right frame of mind for a tea party? By dressing up! Some of my friends wants to kill me for this, but I make everyone dress up. Florals or retro dresses preferred, but as long as you get dressed up it's step one to get you excited for the experience.
Food:
Anything traditional and anything girlie goes. I've tried to recreate some of the recipes from Harmony Tea Room while putting in some traditional fare and also making up my own. At the last party I had (which you are enjoying pictures of in this post we served...
Beverages:
Assorted Teas (blacks, green, and herbal)
Mimosas
Pink Lemonade
Appetizers:
Dates with blue cheese
Apple and tofu salad
Mini Cinnamon Oatmeal Scones
Roasted Red Pepper and Goat Cheese Quiche
Tea Sandwiches:
Cucumber and Cream Cheese
Sundried Tomato and Pesto
Grilled cheese with ham and apricot jam
Yeah, I know that's a lot of food, but you know me! I go overboard for everything.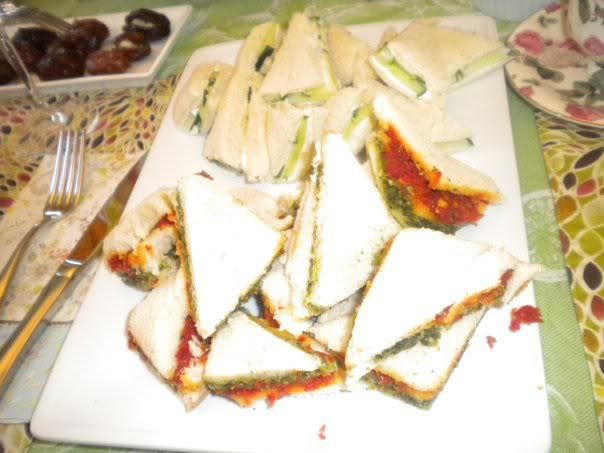 Cookies:
Blackberry Crumble
Vegan Peanut Butter-Banana-Coconut-Chocolate Drops
Linzer Tarts
Mini Pavlovas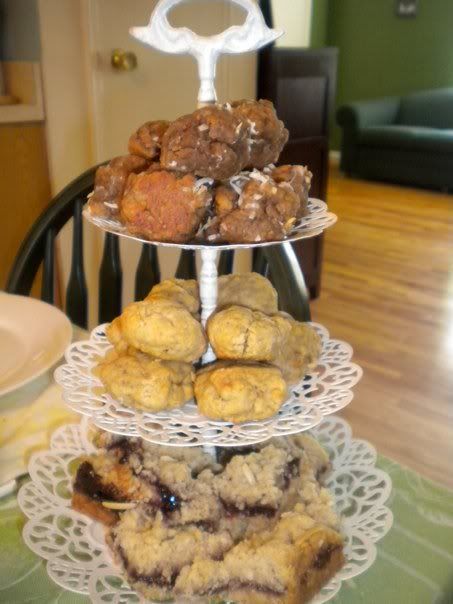 (Recipes for all of these fill follow. Just click on the "tea party" tag and they'll come up as I write them.)
Decor:
And as Sandra Lee says, decor and tablescapes are always an important part of any meal. Unfortunately for me, none of my place mats match my favorite tablecloth that's perfect for Spring. But since I like to put out all different kinds of teacups (just like Harmony Tea Room), the disorganization sort of matches. I match all my plates and serving dishes, though, (everything is white) and it brings it all together. Especially when I add a nice bright floral bouquet. And I always play classical music in the background (something nice and light like concertos by Mozart, Chopin, etc.).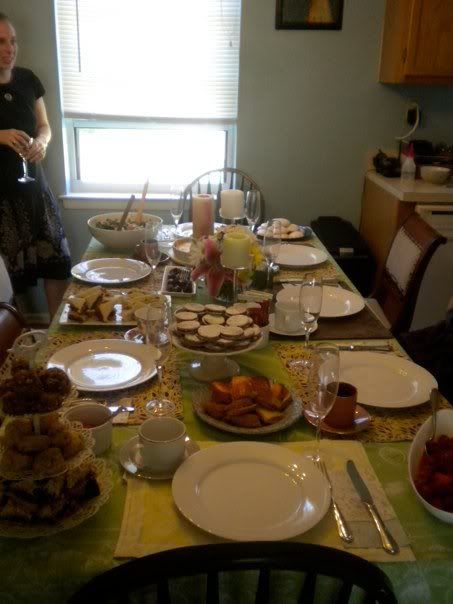 And what do you do when you're done gorging yourself on treats? You watch a chic flick of course! We've watched Jane Austen via the BBC and modern movies like The Devil Wears Prada. Whatever floats your estrogen boat.
This kind of made me miss my friends from home a lot! I may need to have some girls over here to have a tea party. I just need to think of an excuse to have one now...Maybe to celebrate that this is my 100th entry?