Now that could be a little bit of an overstatement, considering Google's many contributions to our internet driven society. But as a displaced New Yorker in a new time zone where when my minutes kick in, it's midnight on the East Coast, anything that brings my phone bill down is a blessing.
Now, I know that Skype exists, and so I can theoretically talk to my brother on our Mac Books any time I want. But for someone like my mom or dad, who don't have a webcam, or my boss who has a different phone service than I do with even less minutes and poor reception, Google's phone service is ideal.
Basically, if you have a Gmail account, you can now install a small piece of software which will let you use your Gchat function to call people in the US for free and for very low rates internationally. The pop up window looks like this: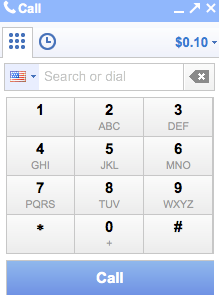 and as long as you keep Gmail open and have a microphone somewhere on your computer (again, if you can Skype or do any kind of video chat you're ok) you punch in the number and you're good to go. Very easy to use, if you can use a cell phone, you can use this.
I called my boss on her parent's home phone on Friday and we talked for 2 hours with no dropped calls or other interruptions. There were times when voices sound a little bit like a robot, but it was tolerable. And hey, you get what you pay for...and I'd like to not have $120+ phone bills anymore.