Ok, I have two confessions to make.
1. Every time I look at the blog, and most specifically the entry about Dirt Candy my mouth starts watering at the sight of those Jalepeno Hush Puppies. I am so hungry right now just thinking about it (and I JUST ate) it's sick. I need to write 5 more entries ASAP to get that off the main page or I may go insane.
2. I know I said I would post pictures this week about my fall decorating of our apartment this past weekend, but I never finished decorating. We have no tape or glue gun, so I couldn't do some things, and there are no Christmas Tree Stores in California so I couldn't buy the supplies I wanted. Therefore, this weekend I am going on a hunt trying to find the things I need and will hopefully post about this next week.
Since I can't post about my Fall house decorations, I figured I could post about my favorite Fall body decorations. Scarves and Boots! Although in reality, most who know me in real life know that I will find any excuse to wear my scarves and boots any time of year. The moment it's below 70 the scarf gets broken out, and boots can be worn any time of year if you wear the right clothes with them. I type this as my husband shakes his head at me. He thinks my love of scarves makes me a freak and my dear aunt sarcastically says to me on a regular basis, "I have the shoes picked out that I want to be buried in, just like you have your scarf." And she says she can always pick me out of a crowd by looking at people's shoes. When she sees the boots tucked in jeans she knows it's me. So shoot me, I like scarves and boots! Is it any wonder that Fall is my favorite season?
I've done some reading of Fashion Blogs and have tried to pick out some fall trends. From being a steady reader of Harper's Bazaar for several years I've started to realize that each year certain styles don't go out of fashion, it's how they are presented that changes. And usually they don't change that much. It's probably best to pick out a few pieces that are seasonally perfect, but classic enough that you don't need to replace them. Depending on your budget maybe buy one new statement piece a year and save it, but otherwise you can get away with not having to update your wardrobe that much. In reality, you can get away with a lot by just changing your makeup and hair around, as long as you have those basics and your statement piece.
What are this seasons trends? You've got a little bit of every style. Bohemian, Uptown Chic, English Country Side, 70s glamor. Jewel tones, tweed cropped jackets that look very Chanel (or just tweed and blazers in general), camel and olive colored accents. Other big colors this year were red and purple. Not much has changed since last year.
Here are a few of the more wearable examples from
Harper Bazaar's website
: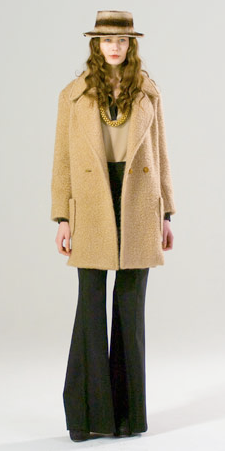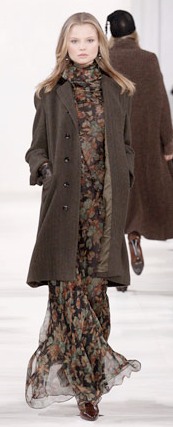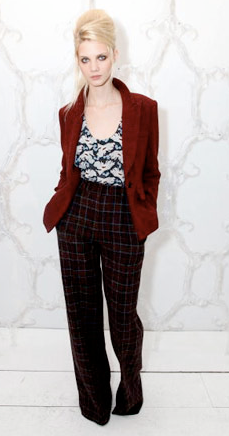 High fashion aside, what are some of the things that I think are important to own? Well of course scarves. You've got a lot of options right now as over the last few years every kind of scarf ever has become popular.

You can go for the English countryside look and get something plaid or another mensware pattern like this houndstooth scarf from Lord and Taylor: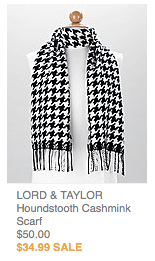 By the way, L&T is having a sale right now. Extra 20% off of regular and sale merchandise online and in store. Code online: SALE. Go to the website for a print out coupon.

You can also go for the Bohemian look which is very big right now (the second is from ModCloth):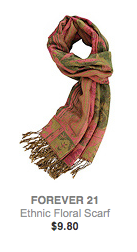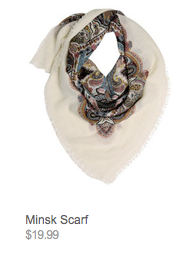 There's always the playful youth look, like with this camera themed scarf from Banana Republic (they are having a huge sale, by the way, and daily specials this week because of their online anniversary):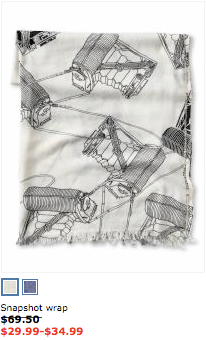 Or you can just stay warm with a solid color, or bright colored scarf like this one: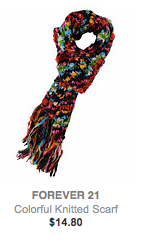 As far as boots goes right now, let me first start off by saying Ugg boots are never in style. Lord do I hate them. What is in style? Boots that look like English riding boots (note: not Cowboy boots-but boots that do have a western feel to them are ok) and boots that have a rocker flair to them. Fall is the perfect time to break out your tall boots with a dress, leggings, or jeans. But if you tuck your pants in them, just make sure it's a pair of skinny jeans otherwise they look too bunchy on top. A note of caution, it's really hard to find affordable good quality tall boots. I always buy mine when they go on sale in January. And I always go in store so I can try them on. I don't even have big calves, but it can be very hard to find boots that fit them. Here's a few options from both sides of the coin:

From DSW: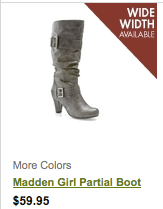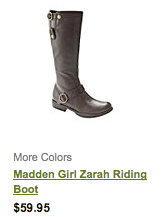 From Payless: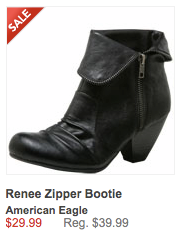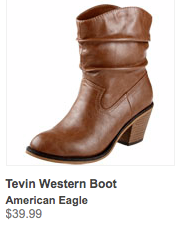 From Lord and Taylor: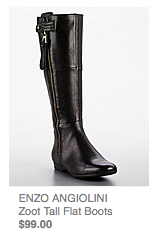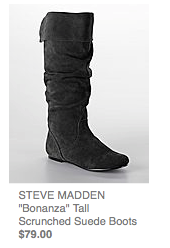 And my personal favorite right now from Banana Republic: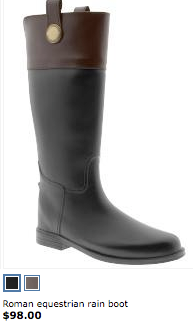 Now the last important piece of fall clothing? The blazer! I don't think blazers will ever go out of fashion and if you buy the right style you can break it out again for the Spring (although generally the Olives or dark plaids don't work). I think any of these would be good for the Spring too.

From Gap (who just announced international shipping and is also having a sale. Use GAPSAVE20 to get an additional 20% off everything):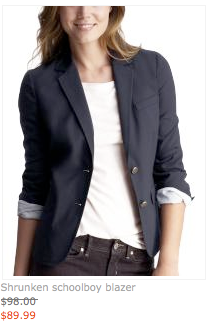 From Overstock.com: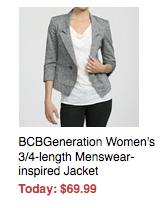 From Ann Taylor Loft: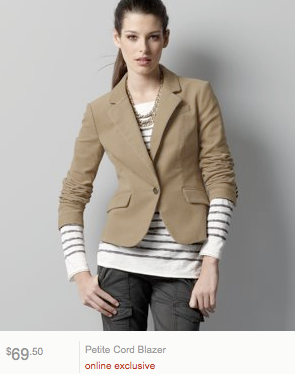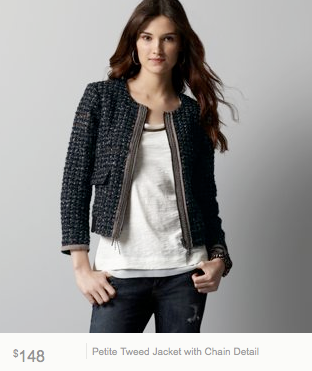 A word to the wise about this last jacket. The Chanel 1960s look is very big right now but don't get sucked into buying suits just like Jackie O. I love the 60s, and I love Jackie O, but a full suit looks dated. It's really hard to modernize that like you can with other things. I personally like to dress like I'm from the 60s on a regular basis, but even I won't do that one. Too obvious and not very flattering on me. I'd stick with the jacket and a solid color pair of pants or pencil skirt or jeans if it's not for work. You still look polished without looking like a Halloween costume.

Back to my real job now!