I got out of class early today, so since we didn't have any bread (and the staple lunch in our house right now is PB&J) I made a quick run to the supermarket to pick up a loaf. While there I got the impulse to go into Marshall's and see if they had candles the size I wanted (remember my failed trip to The Christmas Tree Shop that doesn't exist in California?) and success! I found them, and everything else I wanted for this entry.
I had set a very strict budget for myself of $35 and the goal was to get red and orange candles, fall place mats, a wreath for the door, and pumpkins. I already had everything else I needed (white candles, M&Ms (that was covered by our food budget for the week), a glass jar, a tablecloth, and other various seasonal decorations.
This is what our dining room table looked like before (excuse the mess, I took this within the first couple of days of our move):
I had a lime green tablecloth out with flower placemats and spring/summery candles.
Once I changed around a few things: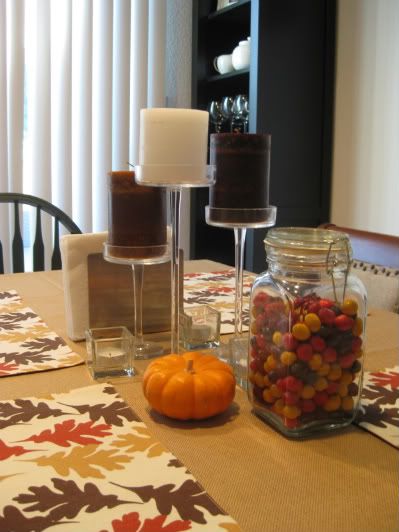 -2 Candles $3 each
-4 placemats for $7 (And the best thing about these is that on the other side they're plain brown so I can use them with other tablecloths I have)
-2 bags of M&Ms for the jar (I don't know how much they cost, Nick did the food shopping this week)
-1 mini pumpkin for under $1
Actually, my table really looks like this at the moment: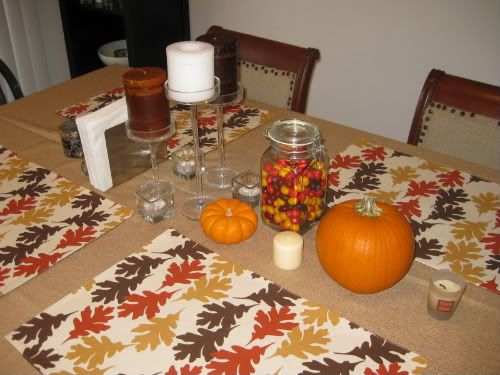 But I have a craft project for that slightly larger pumpkin (cost me $2). I need to invest in a glue gun, then I can post an entry about that!
In addition to switching out those linens, I also changed the dish towels in the kitchen to more fall appropriate ones (golden yellow and another with a pumpkin vine) and put out our little Halloween nick-knacks. This next picture is a really bad one, but that's what you get when you have two cats who are running all over the place and trying to get in on the action:
Before we had out white cloths with yellow lemons and green leaves on them. I switched them to these paisley-esque ones and put a wicker pumpkin and two maple leave candle holders out. I'd also put some candles in there, but with the cats...that's a bad idea. It's like I have two toddlers already.
For the front of the apartment, all I did was buy a wreath for $19. It should be able to last me through Thanksgiving, and maybe even Christmas since it has some red in it. I also put out a ceramic pumpkin we got as a gift a year or two ago, and taped some costumed characters to the windows. When I was little and we lived in our apartment, my mom used to buy them (they're generally a dollar or two depending on the size and they only last 2-3 years if you can flip them over (the sun washes out the color eventually)) and hang them up in the windows since we couldn't do much else to show our holiday spirit. I don't think Nick is that big of a fan of them, but it makes me feel like a kid again, so he has to put up with them every year.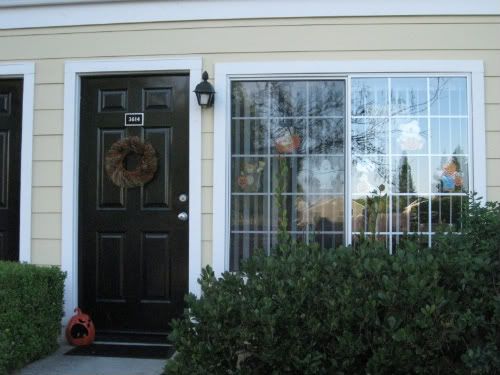 When we were kids we also used to make little ghosts out of tissue (take a couple bunch them up, then put another over it, tie with a ribbon, and draw a face on it) and hang them around the apartment. That's actually a really good idea if you're having a party...you can put a tissue over a tootsie pop instead.
Anywhoo, so all of that put me at $35 exactly, anything that I bought can be kept out until Thanksgiving, and next year I shouldn't have to spend anything because I can reuse it all (minus the pumpkins of course).