Nick and I have now lived in California for almost 4 months. We are both really into wine, and I come from a long line of winos. And so, embarrassingly enough, just this weekend we finally made it to wine country for the first time. I've only been one time before, and Nick had never gone. When I went last year with my friend, Katrina, we went to the
Beringer Estate
.
After doing a search online they seemed to have the most extensive tours and we wanted to pick a spot that seemed like it had a lot going on. And after experiencing their 30 minutes tour I knew I had to bring Nick back, so this Saturday (despite the dreary looking weather) that's where we headed.
Unfortunately, due to traffic we couldn't get to the winery on time for our tour, so we pushed back to the next one offered and spent a couple hours walking around downtown St. Helena first. The town itself is only a 5 or so blocks long and 2-3 blocks wide. We window shopped all the artsy fartsy stores and antique shops and did some olive oil and vinegar tasting at
St. Helena Olive Oil Company
and
Olivier
. Besides some amazing olive oil and vinegar, there was also mustards, tapanades, BBQ sauces, pasta sauces, and a whole host of other things. We ended up buying one or two things from each store (there were so many delicious things we tried, that was a real compromise on our parts). Once we were done there we popped back in the car for a 2 minute drive up the road to Beringer.
Tickets in hand we walked up to the old winery (which also has the gift shop) and tasted some mulled wine while we waited and chatted with the women who worked in the shop. Then our tour guide met us and she took us into the caves
. The reason I wanted to take Nick on this tour is because it's very informative. He is a lover of knowledge and specific facts and before we go back to Napa to really have the full experience, I wanted to be able to take him some place where he could learn about the science of the wine industry. We were shown old presses and told about the process of making wine as well as the history of the Beringer family. We got to taste a wine straight out of the barrel (it had only been in there a couple months so it didn't taste much like wine) and were shown the different kinds of vines and explained how the growing season worked as well.
Once we were done in the gardens, we were taken to the Rhine house (which is a huge mansion on the estate built by one of the Beringer brothers):
We had a special room for a private sit down tasting where we learned about the different things to look for in a wine (and why people swirl, smell, swoosh, etc.). Then we tried 4 different varieties, including a special reserve that cost $115 a bottle. I don't like red wine, but I now understand the value of a good bottle because even I thought it was amazing.
Unfortunately, a piece of cheese, a bread stick, and a cracker, was not enough to keep us sober. So after 6 different kinds of wine (which was probably 3-4 glasses) in two hours, we needed to sit for awhile and sober up. We sat in the gardens and watched a gorgeous sunset before we went back into town to have dinner at
Cook
.
There weren't many restaurant choices within the downtown area (although later when I looked online there are sooooo many within the area). A few really nice ones, a few in the middle, and a few on the more casual end. We opted for Cook because the menu looked delicious. It was a quaint restaurant that served continental food with some French influences. The food was delicious, although the gnocchi with gorgonzola I got was a little bit of a rip off as the plate had barely any food. We were counting on having some leftovers (since we ordered some fried calamari as an appetizer), but I ended up having to eat some of Nick's dinner (which was a whole chicken with polenta, asparagus, some kind of fruit, and other things) to be satisfied. We didn't have any wine, considering the amount we had just drank. For dessert we ordered panna cotta and a date tart. As usual, we picked a restaurant that had locally/ethically grown/raised products and the food was amazing.
Here's some food from their website: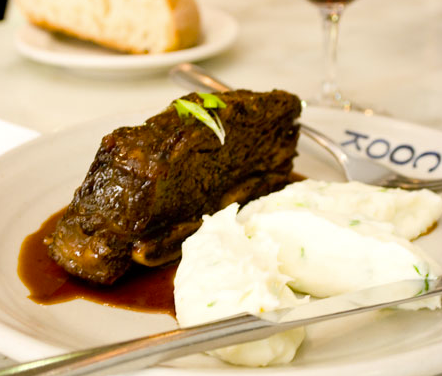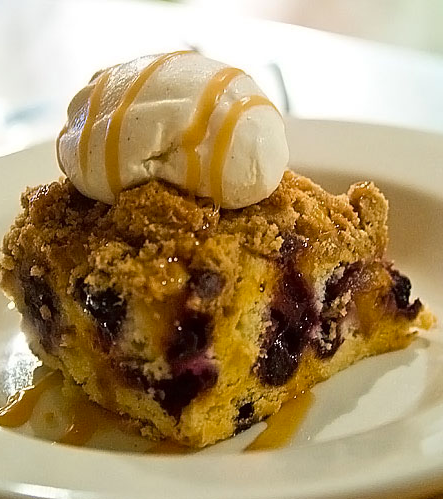 All in all it was a very successful first trip to wine country. Not that I wasn't before, but I am really really looking forward to going back for our anniversary now.