This past weekend Nick and I took a quick drive-by visit to Los Angeles. And when I say a quick drive-by visit, I really mean that. We drove down to my friend Scott's on Friday night, stayed with him, then went to the Getty, then down to Huntington Beach for the afternoon and evening to visit with my friend Ashley, and then up to Simi Valley to see my friends Sarah and Erin, then we took the Coastal Road home. It was a whirlwind trip, and I'm not sure how I feel about LA as a whole considering we barely saw it, but we had fun none the less.
Saturday night, after we spent several hours lounging around like lazy people and swimming in the ocean with Ashley, a group of us headed out to dinner for some sushi (because what else would you have when you're by the ocean but seafood?) at
RA Sushi
. The crowd was a mixture of beach bums (like us) looking laid back and tanned and townies dressed to the 9s and ready to party. The restaurant had a lounge kind of feel a fully stocked bar with lots of specialty mixed drinks with pop and dance music playing so they were definitely catering to that kind of crowd, but were more than happy to see us and take our money too.
Now, I know seafood in all its forms is better by the beach, but I am super picky about my sushi and I'd like to think that in New York I've had some of the best sushi of my life. Before we went out to eat we talked about some of our favorite places and lamented the closings of some on both coasts. Here in the Silicon Valley I've found a really great place in Mountain View (
Momoya Sushi
). I have no idea why it's rarely packed, but the sushi is cheap, delicious, and reminds me of one of my favorite places back home.
All that being said, I have really high standards of how I like my rice and what I like in my rolls. If I'm not feeling anything I just get avocado rolls and hope the place doesn't mess that up. But at RA, there were so many interesting special rolls on the menu it was actually hard to choose. I'm not that into spicy things (of which there was plenty of) so that's how I narrowed it down, but it was really impossible. Things like the Tropical roll (cucumber, mango & avocado rolled & topped with spinach tempura, spicy shrimp mixed with masago & mango salsa) and the Lobster shrimp roll (Lobster, cucumber & avocado rolled & topped with shrimp with an Asian pesto sauce) immediately caught my eye. I love sushi with fruit and odd sauces.

Although ultimately I went with a Vegetable Tempura roll (Lightly battered asparagus, sweet potato & Japanese eggplant rolled & topped with tempura bits with a sweet eel sauce) and a Philadelphia roll. One of Nick's rolls was the Viva Las Vegas Roll (Kani kama crab & cream cheese rolled in rice & seaweed, lightly tempura battered & topped with spicy tuna, kani kama crab mix & sliced lotus root with a sweet eel sauce & spinach tempura), which is their signature roll and pictured at the left.
Everything we had was great and I left wishing I had more of an appetite to try another 3 rolls, a dessert, and have some drinks too. Maybe on our next visit...
Ok, and now for some pictures from the website of some really amazing rolls (including a dessert one).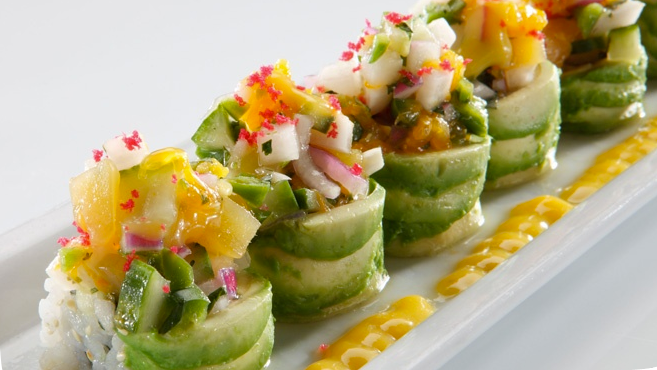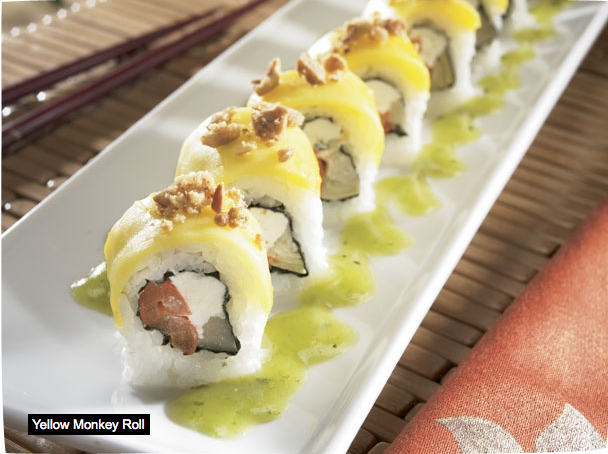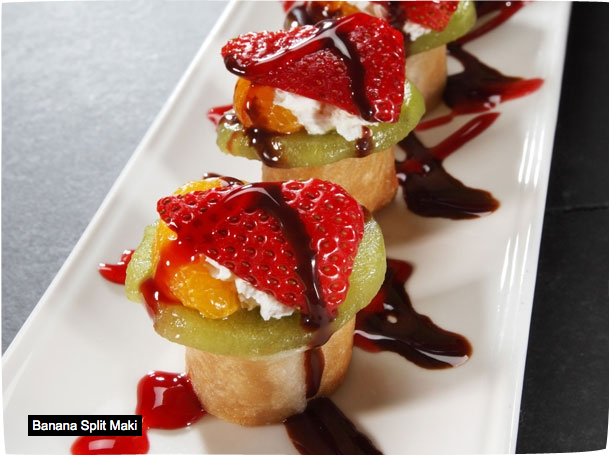 Best part is, this place is a chain, so if you check out the website there may be a RA near you! Although I guess that's also the worst part for us too because all of the RA Sushis in California are in So Cal. Sorry, don't like LA enough yet to move down there for a sushi place, no matter how fancy and delicious it is!