I've been on so many interviews in my life and I'm so sick of the traditional suit. When I worked at my last job I had the wonderful (for real, I actually enjoyed it) opportunity to interview some new Research Assistants with some of my co-workers. I was more impressed by the kids who came in wearing clothes that looked like themselves and not some ill-fitted suit because "that's what you wear on a job interview." I'm sure some industries are super strict about stuff like that, but not the psychology world.
This past week I've had to go on two interviews for a supplemental practicum. Long story short, to get my license I need to have practice hours as a therapist. These go towards that but also make me look good when I apply to an internship for my 5th and last year of school. So I've been once again pushing my professional outfit making boundaries and seeing what I could come up with that would be conservative and smart looking while also being stylish and true to myself.
Here's the outfit I came up with for the last interview I went on (and I really hope I get it):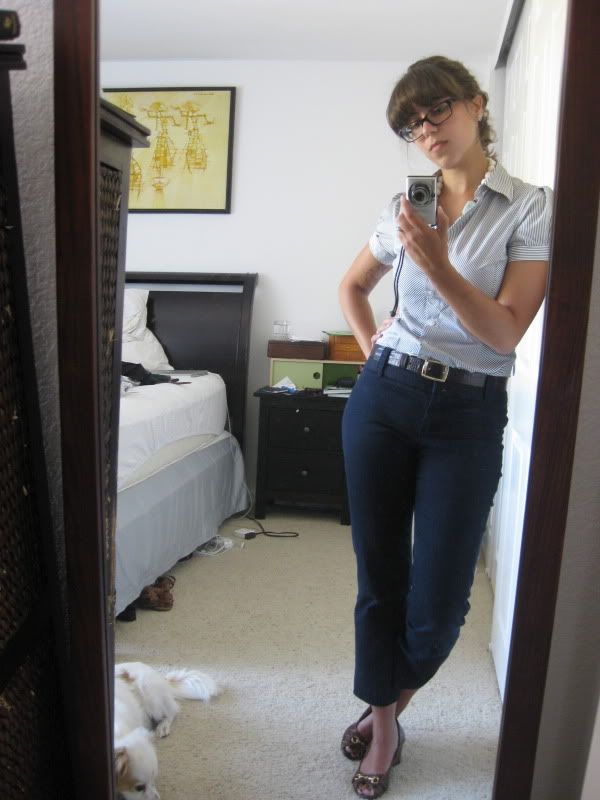 Shirt: Express circa 2006
Pants: JCrew City fit circa 2008
Shoes: Jeffrey Campbell circa 2008ish?
Belt: Banana Republic
Necklace: Anthropologie
You're hire me right? Those glasses do it? Or maybe it's the kick ass Wilma Flintstone necklace?