A bunch of us went to Santa Cruz on Saturday to celebrate a friend's birthday by watching the 49ers game and then having a bonfire on the beach. Since I knew we'd be gone all day and I needed to be dressed for a sports bar but also be warm at night (it may be in the mid 60s during the day, but at night it's in the low 40s), I just wanted to be kind of blah and wear bluejeans and a t-shirt. Throw on a sweatshirt and be comfortable. But the one pair of jeans that fit me right now were still wet (I air dry 85% of my clothes to prevent shrinking and fading) so I had to actually attempt to make an outfit that wasn't completely horrible. I had been so dead set on my baseball tee and jeans that I a really hard time dressing myself. I rarely spent more than 5 minutes thinking up outfits and getting dressed, but for whatever reason I spent about 45 minutes figuring it out. Trying one thing on, discarding it, trying something else on, going back and forth almost like a logic puzzle. Sometimes I can't help but be a girl.
This is what I ended up coming up with: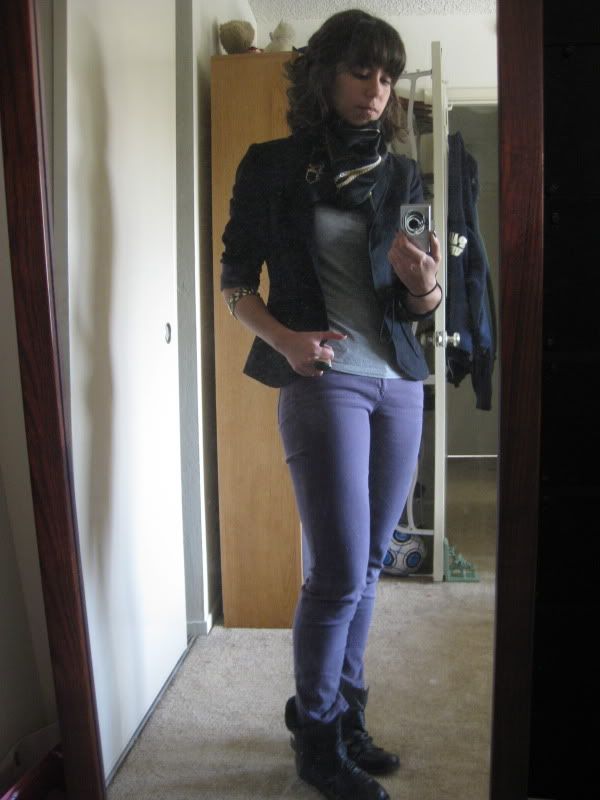 I gotta say, I was pretty happy with the final product and thought to myself, that as simple as it was I would wear it again some time in the near future. Then I thought, "you know what, Sam has the purple pants too. And she's got combat boots. Maybe I'll change the shoes just in case she wears the pants, this way we're not exactly the same."
Well then this happened...
I guess that's how you know we're really good friends. We show up at a party wearing the same thing, completely unplanned. At least our shoes were different.
On me:
Pants: AG Jeans, the Stevie fit @ Anthropologie
T-shirt: H&M
Scarf: H&M (recent purchase)
Ring: Forever 21
Bracelets: Forever 21 (recent purchase)
Boots: Nine West @ Lord & Taylor
Flats: The Loft
Purse: Lord & Taylor