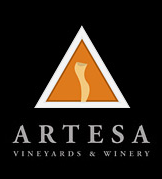 When Nick and I started planning out our anniversary trip my friend, Brooke, kept going on and on about her favorite winery,
Artesa
. I have to be honest, I normally don't follow up with recommendations that people give me. I like to do research myself and go based on what I think Nick and I will like. I know that's really stubborn and rude, but I've noticed that most people say, "Oh, I really love this place," rather than think about whether or not
you
will like it. But with Artesa, enough people recommended it (and Brooke was practically in a frenzy over it), that I figured we would give it a shot. I am extremely glad that I listened to someone else for a change, because we really loved both the property and wine at Artesa.
The property itself is set on top of a hill far off the main road. Driving there you pass many small mom and pop places and long rows of vines. Even though Artesa is one of the more popular spots, it really makes you feel like you're in the heart of wine country off to find some special treasure. Then the actual winery is atop a few staircases. It reminded me of climbing to the top of a Mayan pyramid (not that I've ever done that, but it had the same shape to it). Except there were gorgeous fountains and green yards. The one downside was that you were not allowed on the grass. A popular thing to do in Napa is to buy a bottle of wine and have a picnic somewhere on the grounds of the winery, and it would have been amazing to lunch next to this:
and look at this:
But unfortunately that was out of the question. There is an area near one of the fountains that you can sit at, though. And if you go before noon you will have some peace and quiet while you sit and stare out at the valley.
As for the wine, it was the only winery we bought two bottles at, and we had to try really hard to narrow it down to just those two. The prices were in the middle range of most of the places we went to with most bottles from around $20-$40, but also going up much higher. I generally do not like red wine, but even I found two bottles that I liked. And Nick found a bottle of white that he didn't think was half bad either. Unfortunately the woman who was our pourer was a little curt and rude (Nick and I are extremely friendly people and can chat up anyone, but this woman just frowned at us or gave us a blank expression most of the time), but she still gave us several extra tastes of things that were not on the tasting menu.
The building the winery is in is very chic and modern (which fits with the rest of the property), and has a few private tasting rooms (although they are closed off by glass so you can see inside). Aside from the two wine bars, there are also a few small tables to sit down at if there is no space at the bar. The gift shop offers a lot more than most wineries do. Wine paraphernalia, art, chocolate, etc. There is also a resident artist, Gordon Huether, who displays his smaller works as well as large sculptures outside. As a tip, if you go to his gallery is downtown Napa and mention you plan to go to Artesa they may give you a two for one tasting coupon.
All in all we really liked Artesa, and despite the chilly service, we plan to go back any time we're in town and take the family too.