For Christmas we (I) were gifted with an amazing cookbook from Nick's sister,
1001 Cupcakes, Cookies, & Other Tempting Treats
. After a quick flip through on Christmas I was so excited to get home and bake some things from it. With recipes like Banana Caramel cookies, Peanut butter Cupcakes, and goat cheese and scallion muffins I knew I could bake something different every week for 5 years, never repeat, and always be happy.
So last week I went on a cooking spree (part of which resulted in the
Mini Chicken Pot Pies
) and made Chocolate and Orange Sandwich Cookies from one of the recipes in the book. They looked amazing and everyone who tried them (which was a lot because I made them to share) said they were delicious. So I am sharing with you the recipe, with my tweeks of course.
Ingredients
For the cookies:
- 1 cup butter softened
- 3/4 cup sugar
- 1 egg yolk
- 2 tsp vanilla extract
- 1 3/4 cups flour
- 1/4 cup unsweetened cocoa
- 3 1/2 oz. (100g) semisweet chocolate finely chopped (I chopped up chips, you definitely need to chop them up, though because in full chip form they are too big for the cookies)
- 2 tsp zested orange rind (I may have only used 1 1/2)
For the frosting:
- 1/2 cup heavy whipping cream
- 7 oz (200g) white chocolate (again I used chips)
- 1/2 tsp orange extract
- 1/2 tsp vanilla extract
1. Preheat the oven to 375 degrees. Line baking tins with parchment paper (if you can don't use a baker's stone. I am without one baking sheet right now and using the stone made the edges of the cookie thin and crumbly).
2. Mix together butter, sugar, and orange zest in a bowl until light and fluffy. Then add the vanilla and egg yolk.
3. Sift flour and cocoa together before adding to the mix. (I personally think the sifting is really only important for the cocoa). Add chopped semi sweet chocolate.
4. Once mixed well, scoop out cookies with a tablespoon and roll into balls and place on cookie sheet. Then flatten the tops with the back of a spoon. If they stick, dip the spoon in water once in awhile.
5. Bake for 10 minutes. Let cool completely before icing.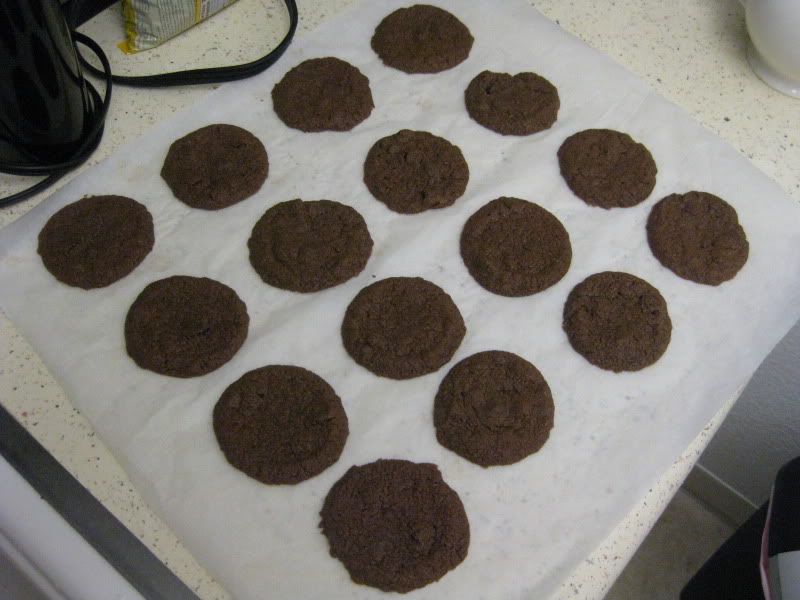 Before icing we had one extra and we got to split it. Soooo good.
6. Bring cream to a boil in a small saucepan then immediately remove from heat. Stir in the white chocolate until mixture is smooth. Then add vanilla and orange extracts. I also added food coloring because I wanted to let everyone know the cookies had orange in them, and it made them look ready for Halloween. I'd imagine you could make them red for Valentine's Day, green for Christmas, purple for Easter, and yellow for the summer.
7. The book didn't say this, but when mixture is completely cooled, whip up on high speed.
Before being whipped...not such a good looking frosting center.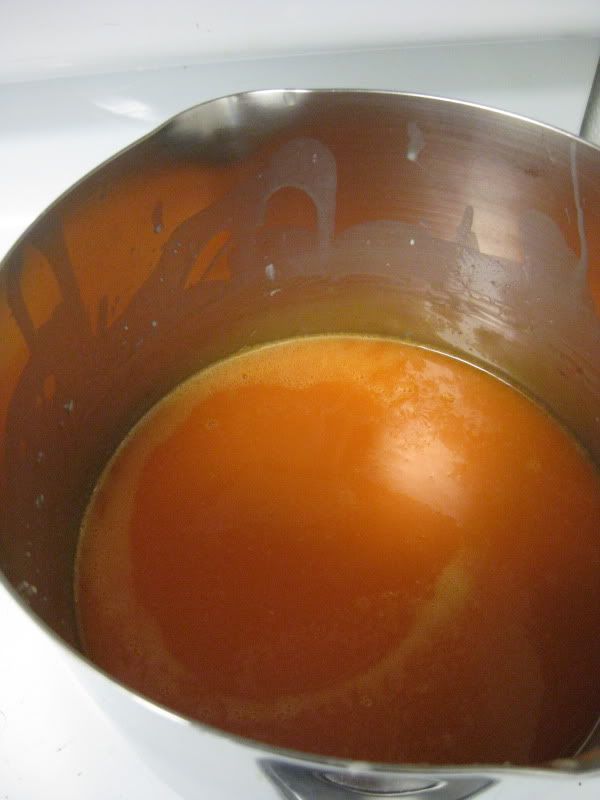 And after...that's much much better!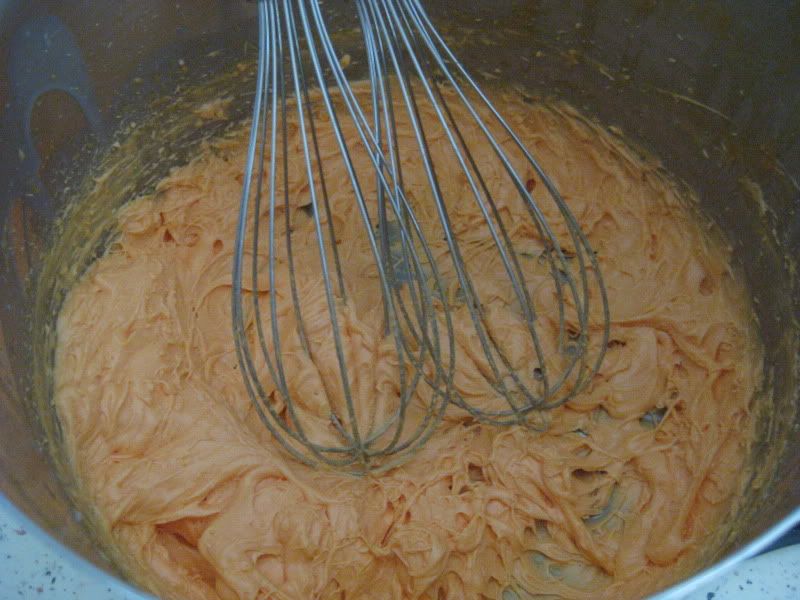 8. Spread on cookies when everything is cooled (otherwise the icing will melt and go back to being liquid). Don't be stingy when spreading. It doesn't look like a lot of icing, but I actually had a little bit left over. Great on French Toast.
9. Keep in fridge if not being eaten. But why would you want to not eat them?
Finished product. Dangerous!!