Sunday was kind of a crappy day. 50s and on and off rain. I know that doesn't compare to the weather at home, but considering the 60s and sunny weather we had for the past couple of weeks, it wasn't exactly welcome. The chill reminded me of fall and after the two weeks of Spring time weather it kind of made me go back into my shell a bit. Not that I was in a funk, but I went from wanting to wear floral dresses and bright colors to breaking out my comfy jeans and sweatshirt with a strong desire to curl up on the couch and watch a movie with Nick.
Since I was in a wintertime snuggly mood, I wanted some comfort food and started to crave chicken pot pie. Luckily we have soooo much food in our freezer thanks to an extremely generous gift from one of my cousins right after we had bought 6 chicken breasts (with the way we eat meat, those chicken breasts were going to last us 3 months), so I had more than enough fixins to make some. The end result was so fantastic. I really impressed myself, especially since I had never made a pot pie before. This recipe is conglomeration with some changes of several I saw online.
Makes 4 individual pies in a ramekin.
Ingredients
- 1/3 cup butternut squash soup
- 3/4 cup frozen peas
- 1 large chicken breast cut into small cubes
- 1 stick of butter
- a little over 1/3 of 1 sheet of pastry dough
- 1 egg, beaten
- olive oil
- 1/4 cup all-purpose flour
- 1 1/2 cups heavy cream
- 1 chopped small onion
- 5 crimini mushrooms diced
- nutmeg
Yeah, there's cream in there. You know this is going to be heavy duty.
1. Pre-heat oven to 350 degrees. Melt half a stick of butter and some olive oil in a pan. Cook onions, chicken, mushrooms, and peas (add to the pan in that order). Add some nutmeg. When done, turn off heat.
2. Take semi frozen pastry dough and break off one third of the sheet. Cut into thirds. Cut off one more piece to make your fourth. Place on a cookie sheet and brush top with egg. Cook for 6 minutes in the oven.
3. Melt other half of stick of butter and add cream to it. Mix with a whisk and add flour a little bit at a time until the sauce is thick like a rue. Then add butternut squash soup and some nutmeg.
4. When sauce is finished add to the pan with the chicken and vegetables and stir. Split up evenly in each ramekin. I added some goat gouda to the top, I'm not sure if it did much for the flavor other than add more calories. I guess Nick and I could use some fattening up, though!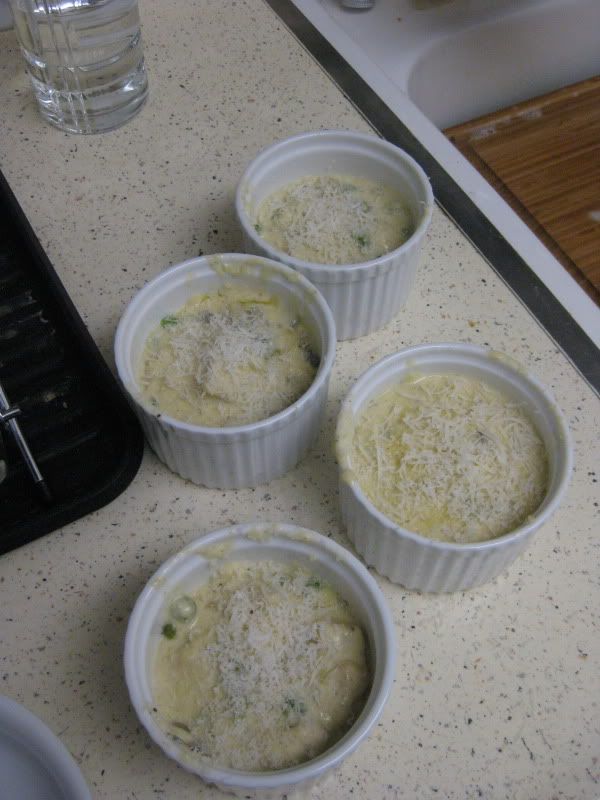 Next top each one with one of the puff pastries.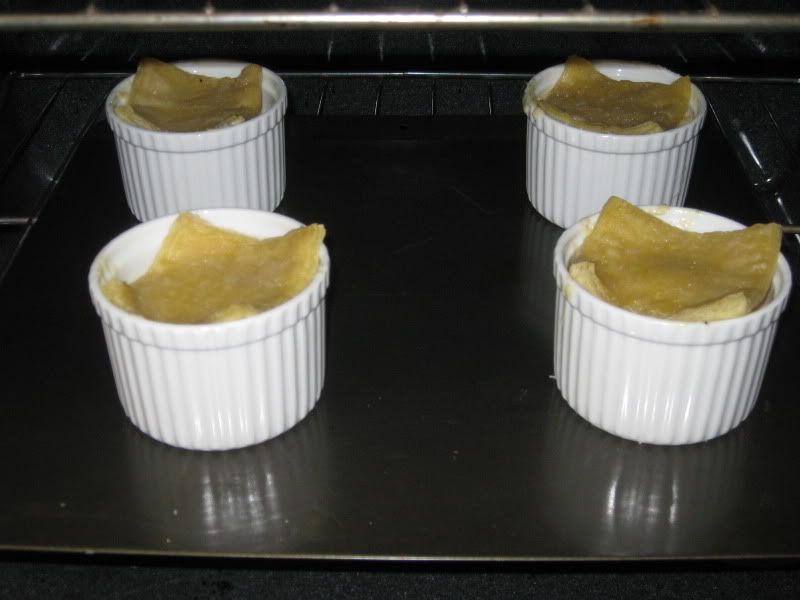 5. Place the ramekins on the cookie sheet you used earlier and bake in the oven for 10-15 minutes (until puff pastries are golden brown and the insides have had a chance to bubble a bit.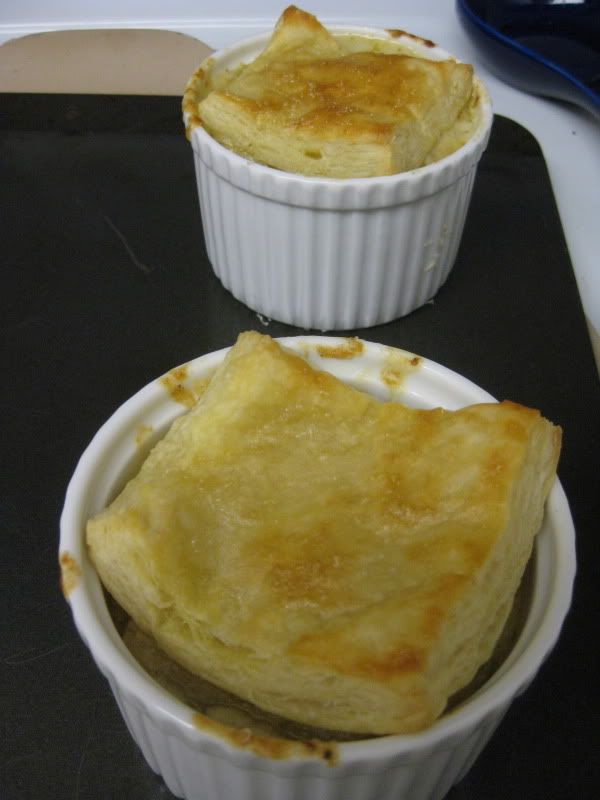 Don't they look yummy?